No mad scientists allowed: Are non-latex gloves safe for your lab?

Learn how to choose better lab gloves for yourself, your colleagues, your application.
Thinking about changing up the lab glove situation for your daily work?
You've probably come across the big three in the lab glove game: nitrile, latex, and vinyl.
But what's the big difference between them? And what type of gloves do you need for your application?
Use the guide below to figure out which lab gloves are best for your daily work, and take the stress off your hands.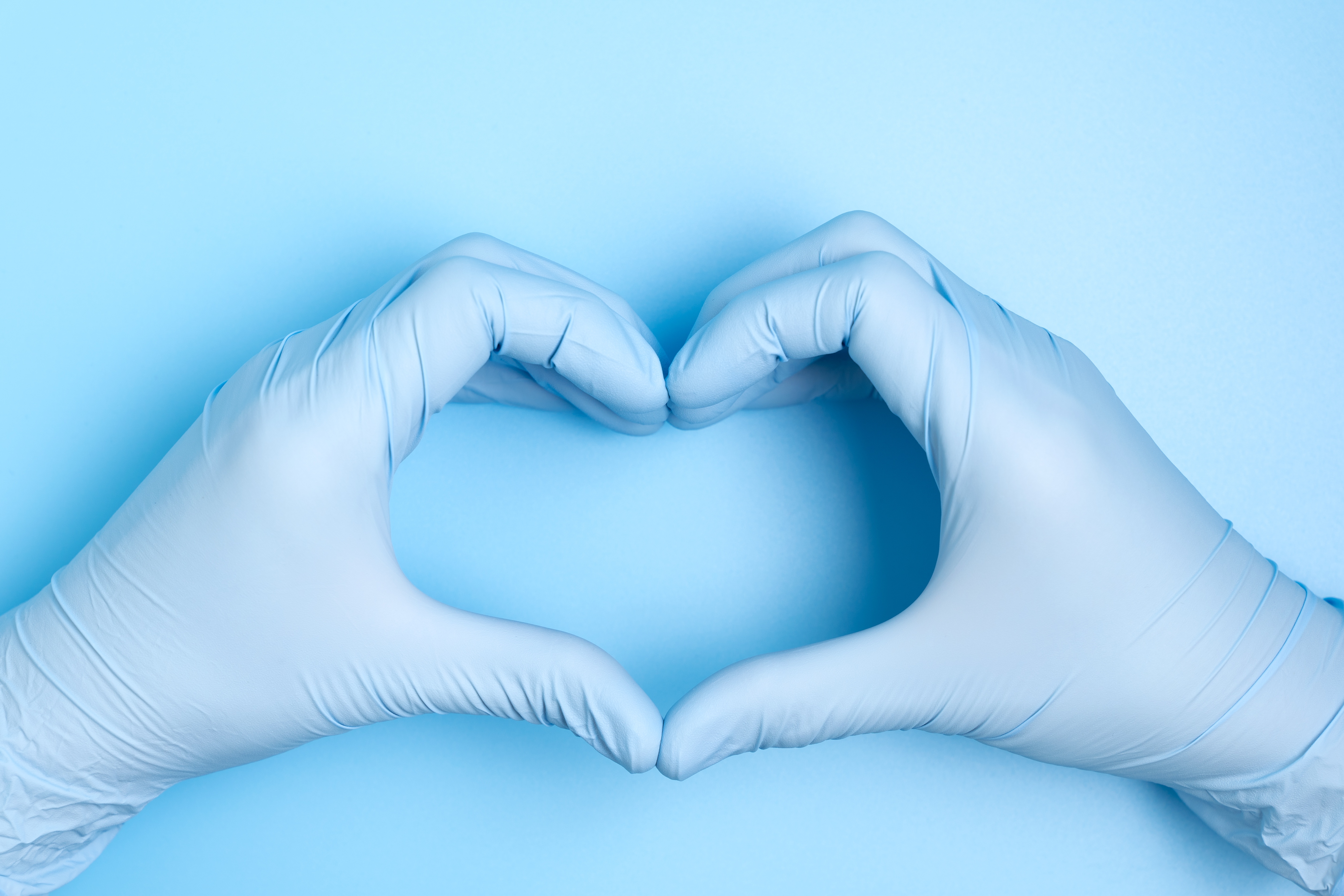 What's the difference between nitrile, latex, and vinyl lab gloves?
Nitrile Gloves

Nitrile, also known as acrylonitrile-butadiene rubber, is a synthetic rubber that serves as an excellent substitution for latex gloves. Not only do nitrile gloves save your hands from looking like a powdered donut when you take them off, but they also protect your hands from solvents that latex lab gloves can't.

Why are nitrile lab gloves the most popular?

You can use them in almost any industry
They're super affordable
Very few people are allergic to them (less than 1% of users)
They feature excellent chemical resistance)

When nitrile lab gloves first came about in the mid 1990s (the Spice Girls could've totally rocked them), nitrile gloves were a lot more expensive than your run-of-the-mill latex options. But the more popular they became, the more affordable they became too. Now, nitrile lab gloves cost just about the same amount - if not less - as latex gloves.

Why do so many of my colleagues choose nitrile over latex?

If you've ever worked with latex gloves, you know that if you accidentally rip them or an object punctures them, you often won't find out about it until a substance leaks in.

And that's a dealbreaker when you're working with chemicals or organisms in a lab.

Of course, you always check the state of your gloves before you put them on. But unlike latex gloves that stay intact after rips and punctures, when nitrile gloves face punctures, they begin to tear. You just can't miss it.

While it's still vital to take other preventative measures, knowing when your lab glove rips can help protect both your employees and your processes.

Falling in glove with nitrile?

Check out these powder-free nitrile gloves
Latex Gloves

Made out of natural rubber, latex gloves are the traditional glove in many workspaces. They have seen a drastic decline with the introduction of nitrile gloves since latex lab gloves cause allergic reactions for some users.

What's the big difference between latex and nitrile?

Latex gloves are:

Comfortable
Sensitive
Provide good grip

While nitrile gloves are:

Comfortable
Thin
Provide better dexterity

Some users experience mild allergic reactions to latex gloves, others face more severe reactions or skin conditions that worsen over time due to repeated exposure.

So, if you're rethinking the glove situation in your lab and haven't had trouble with latex gloves yourself, it may be possible that one of your colleagues will.

Another drawback of latex gloves is that they don't effectively protect their wearer against solvents. If often work with chemicals in your workspace, nitrile gloves are definitely your best bet.

Want to get nitrile gloves on hand?

Check out nitrile exam gloves
Vinyl Gloves

Vinyl gloves are also a popular glove but are only used in certain environments. Vinyl gloves are latex-free and are often the cheapest option of the three materials. This type of glove is generally used in a high volume environment when dealing with non-hazardous materials as they offer very minor protection.Vinyl gloves are generally

Loose fitting
Less elastic than a nitrile or latex glove
Do not fit very well
Uncomfortable to wear for long periods of time

… which has resulted in users only wearing them for shorter tasks (of 5 minutes or less). Often, they're use in the food and beverage industry where workers constantly swap out their gloves for new ones, and in settings where the working conditions pose low risk.

Vinyl gloves do have an advantage over latex gloves though: people are rarely allergic to them. However, they can sometimes get uncomfortable due to low ventilation or perspiration inside the glove, which is another reason why they're suitable for fast tasks.

Got some shorter tasks you need to get your hands on?

Check out vinyl gloves
| | |
| --- | --- |
| | Out of the three options, nitrile gloves offer the most protection to their wearers while posing the least risk to their hand health. For wearers looking to go above and beyond to look out for their skin, these HandPRO® FreeStyle1100™ Nitrile Exam Gloves are made with fewer chemicals and feature Low Dermatitis Potential (an FDA approved claim). |
How do I know if I'm choosing the right type of disposable glove?
When trying to pick the right type of disposable gloves for your lab, ask yourself the following questions: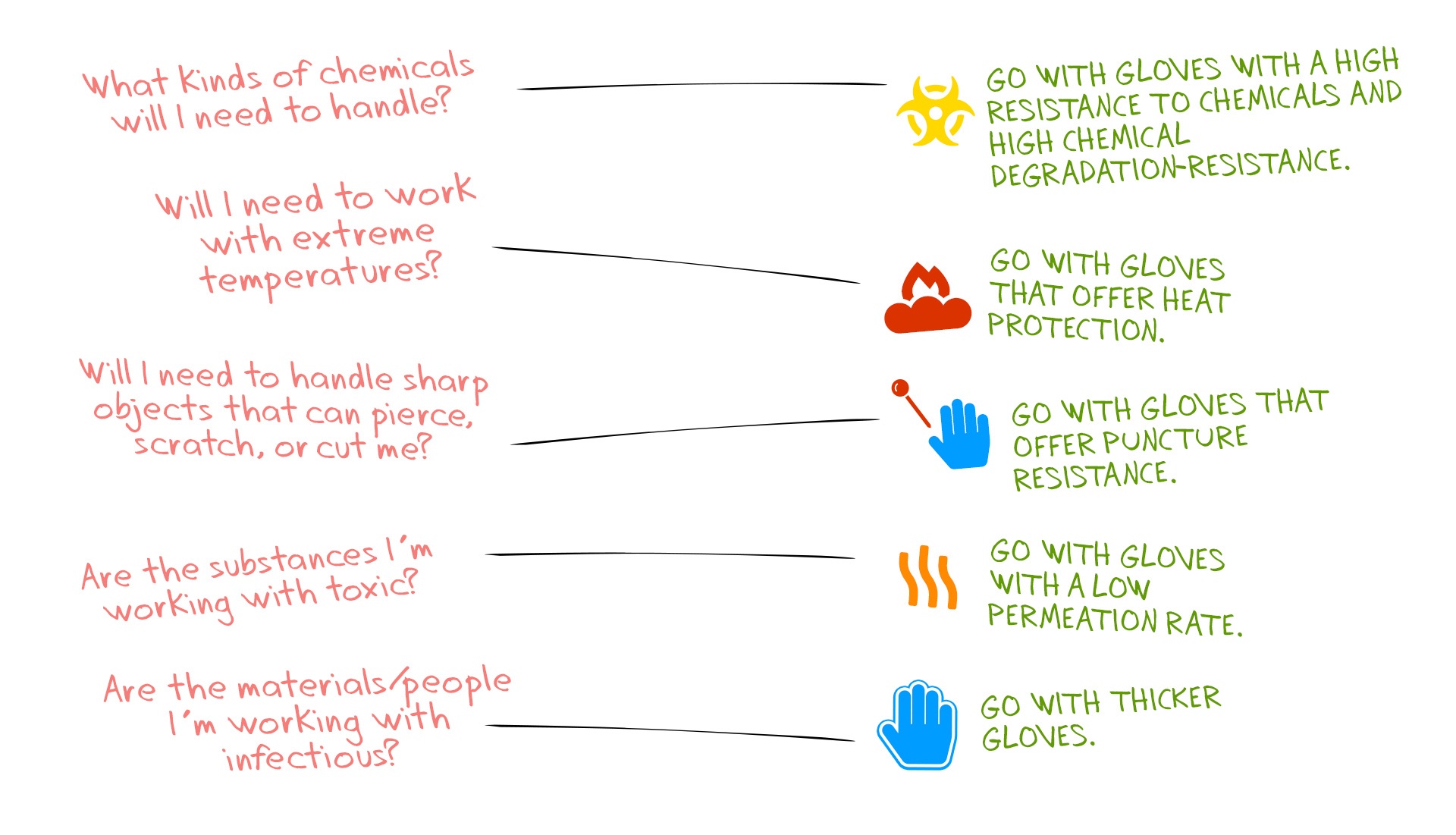 Why should I go with synthetic rubber gloves over natural rubber?
In case you need a little more convincing that nitrile gloves are a better option than latex gloves, we laid out 5 advantages of nitrile over latex.
1. Nitrile gloves have high puncture resistance

We covered puncture wounds in lab gloves earlier in this article, but did you know nitrile gloves are also more resistant to punctures and tears than latex gloves?

This means a nitrile-glove wearer stresses about environmental contaminants infilitrating their gloves substantially lesser than a latex-glove wearer does.

With the peace of mind that nitrile gloves provide, you can focus on doing your job right.

2. Nitrile gloves have greater chemical resistance

Nitrile gloves protect your hands way better than latex gloves do. In fact, latex gloves are manufactured with more chemicals that can irritate your skin than nitrile gloves are, which is why so many users develop allergies to them.

Nitrile gloves provide protection against:

… in a variety of industries.

3. Nitrile gloves are latex-free

Due to widespread latex allergies, some industries avoid using latex gloves altogether to protect both their employees and their patients (in medical environments).

Even if they don't have allergies to latex, users with sensitive skin can develop dermatitis or other skin conditions from continuous exposure to latex gloves.

4. Nitrile gloves fit your hands more comfortably

It doesn't apply to latex gloves. The natural heat from your body causes nitrile gloves to conform to the shape of your hand, resulting in a more comfortable "naked" feeling.

That means users can:

Keep their gloves on longer
Work with greater dexterity
Complete their work without having to constantly readjust their gloves

… enhancing their overall work experience.

5. Nitrile gloves are easier to put on and take off

We've all had to wrestle off a pair of latex gloves before. For users working in fast paced environments or settings that require frequent glove changes, nitrile gloves come off and go on a lot faster than latex.

How does this happen? Because of a smoothing finish thats applied to nitrile, they feature a lower resistance to friction. Instead of using that smoothing finish, latex gloves use their infamous white powder that leaves an unpleasant residue on your hands.
What can I use nitrile gloves for?
Nitrile gloves are used across many industries that require protection from:
Cuts and scratches
Liquids
Abrasive materials
They're well suited in settings where users only wear them for short durations and swap out their gloves for a new pair often. A great benefit of nitrile gloves is that they're easy to take off and put on, which is a leap from latex gloves (and that old pair of jeans).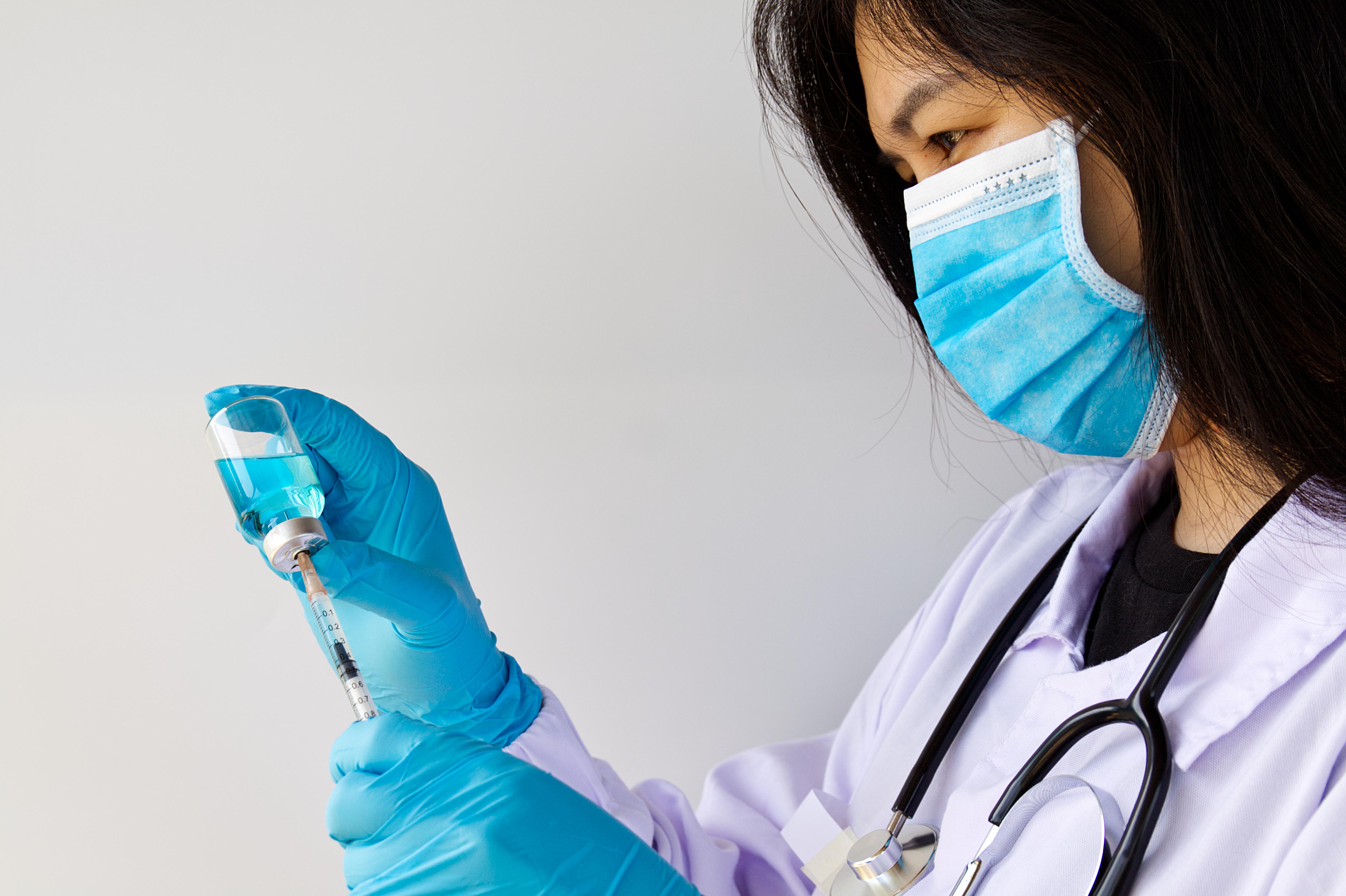 If you work in these environments, nitrile gloves might be the right choice for you:
Medical facilities

Recommended by the FDA, nitrile lab gloves provide bidirectional protection in medical facilities, meaning they protect medical professionals just as much as they protect patients (and vice versa).

Whether you're disposing of waste in a clinic or completing a dental exam, nitrile gloves provide excellent hand protection and can handle the rigors of a fast-paced work environment.

Chemical labs

If you work in a lab or testing environment, you likely come into contact with substances that could be potentially harmful. Nitrile gloves offer far more protection in chemical labs than latex gloves can since nitrile also protects against solvents, as well as hazardous chemicals.

Industrial plants

For your work, if you handle:

Chemicals
Pesticides or insecticides
Commercial cleaning products

… wearing nitrile gloves provides you with protection that is both flexible and comfortable. Nitrile gloves provide the dexterity your hands need to stay successful in tasks related to:

Manufacturing parts
Autmotive maintenance
Janitorial tasks

… without slowing you down or compromising the quality of your output.

Foodservice

Working in a customer-facing role? Need to change your gloves often to prevent cross-contamination?

Then you know how hard it is to wrestle off those latex gloves.

They offer foodservice workers extra protection during their work without slowing them down. Some foodservice companies even color-code their nitrile gloves to prevent cross-contamination during service.
Looking for reliable nitrile gloves for your application?
If you're an advocate for hand health in the lab, check out these HandPRO® FreeStyle1100™ Nitrile Exam Gloves with Low Dermatitis Potential.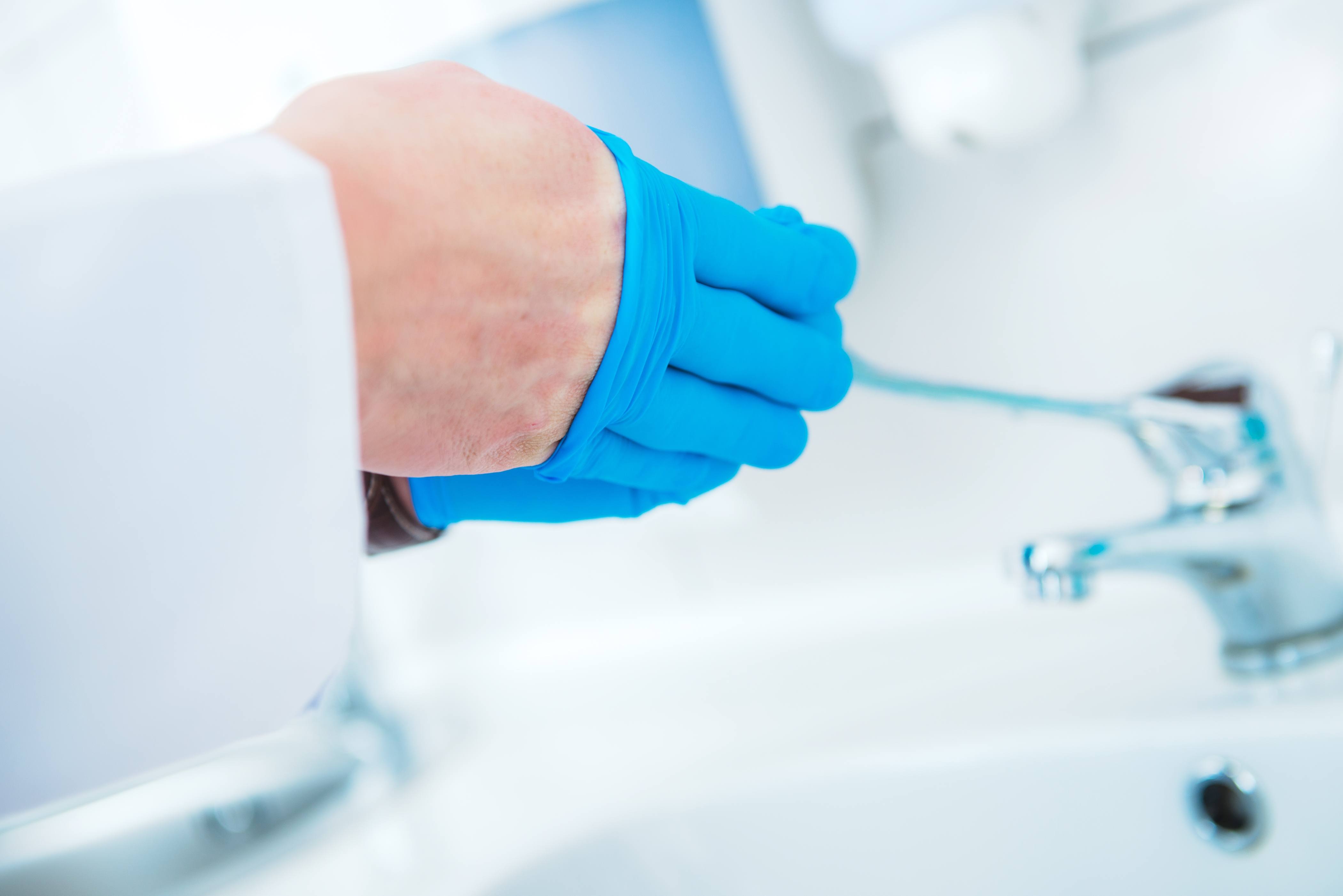 Which chemicals are nitrile lab gloves resistant to?
Does your lab work involve you working with common chemicals like:
Acetone
Ethanol
Isobutyl
Isopropyl
Methanol
If you answered yes to that question, nitrile gloves will provide your hands with the protection they need
To determine whether nitrile gloves are right for the other chemicals in your lab, read the safety instructions for your chemicals before use.
Nitrile lab gloves provide protection against the following types of substances, making them dependable for daily use in your laboratory:
Micro-organisms

If you work in a lab handling:

Microorganisms
Bacteria
Fungi
Viruses

… then nitrile gloves will provide dependable protecion for your hands.

Some organic solvents

Conductiing experiments with organic solvents like methanol or dimethylformamide? The resistant within nitrile gloves make them ideal for these sorts of laboratories application.

Oils, fuels and petroleum products

Users that work in manufacturing, automotive, or industrial environments benefit from nitrile gloves as they provide an efficient shield from potentially hazardous petroleum products.

Weak acids

Nitrile lab gloves gloves can protect wearers from weak acids, such as sulfuric acid and nitric acid. This resistance makes nitrile gloves versatile and practical for a variety of industries from pharmaceuticals to foodservice.

Working with nitric acid or sulfuric acid? Nitrile lab gloves provide excellent resistance to weak acids, make them ideal for users in pharmaceutical or food industries.

Weak caustics

Working with substances that can cause corrosion? Nitrile gloves protect your hands against weak caustics like ammonia.
Nitrile gloves also provide wearers with an ample breakthrough time, which refers to the time elapsed between the initial contact of the glove surface with the chemical and the chemical becoming detectable on the inside of the glove.
Although nitrile gloves can protect against numerous chemicals, they are not resistant to all substances. Make sure nitrile gloves are suitable for the substances that you anticipate them coming into contact with before purchasing them.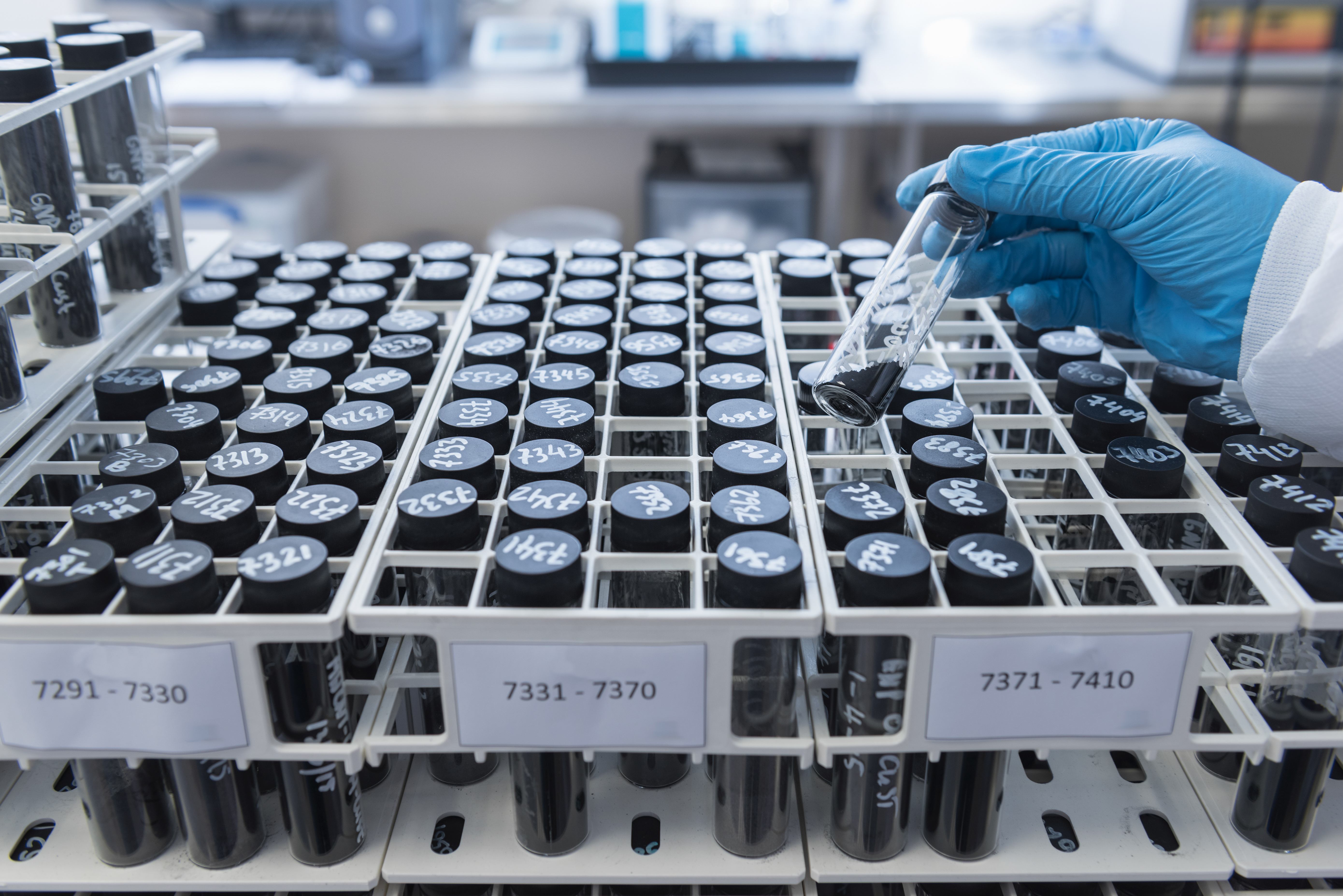 How do nitrile lab gloves protect my hands?
A nitrile glove's strength and effectiveness relates to the thickness of the glove itself. As a rule of thumb, nitrile lab gloves built with a thickness of 5 millimeters protect your hands for 15 minutes after they encounter chemicals.
To better understand the features you need to look for in your glove, you need to know whether your daily duties consist of incidental or extended contact with substances.
Incidental contact
Extended contact

Incidental contact means you're dealing with hazardous materials for short time periods. These tasks can include:

Working around substances that splash
Cleaning up spills
Dealing with potentially infectious objects or people

… among others

You might work in an environment that requires extended contact via:

Handling contaminated samples
Submerging your hands into chemicals
Working under extreme temperatures
Handling objects that can scratch, cut, or pierce your skin

… among others
The other benefit of nitrile gloves is not only do they protect your hands, but they also protect delicate objects your profession might require you to handle like:
Tissue
Glass
Jewelry
Sterile tools
Artwork
Antiques
… among others.
Got more questions about lab gloves?
You just got a ton of knowledge about choosing the right lab gloves for your application (maybe even too much!)
We don't like to point fingers, but to make your quest for gloves easier, here are our top recommendations:
Have more questions about gloves, or not yet smitten with these mittens?
Let us give you a hand.
I have more questions about gloves for my lab