Duraporter® Specimen Transport Box
Your lab is about control. The consistent deep freeze of your LN2 freezers. The ultra-cleanliness of your BSC. Controlling the environment to avoid contamination of your samples, or to avoid your volatile samples contaminating everything else.
The point of least control is transportation. As you move from one stable ecosystem to another. From A to B. The variables are suddenly vast and the potential for catastrophe greater than at any other time.
How do you wrest control from the hands of fate?
Outfit your lab with a utility cart full of Duraporter® specimen transport boxes.
Transport samples, reagents, and other liquids in the lab more safely by securing them inside a Duraporter®.
Tubes and glassware almost never break if the Duraporter® is dropped. On the off-chance they do break, the mess is contained in the liquid-tight box.
Transport instruments into the field and keep them clean and dry, and bring samples securely back from the field in the condition you need.
Store and transport cryotubes and other tubes safely, easily.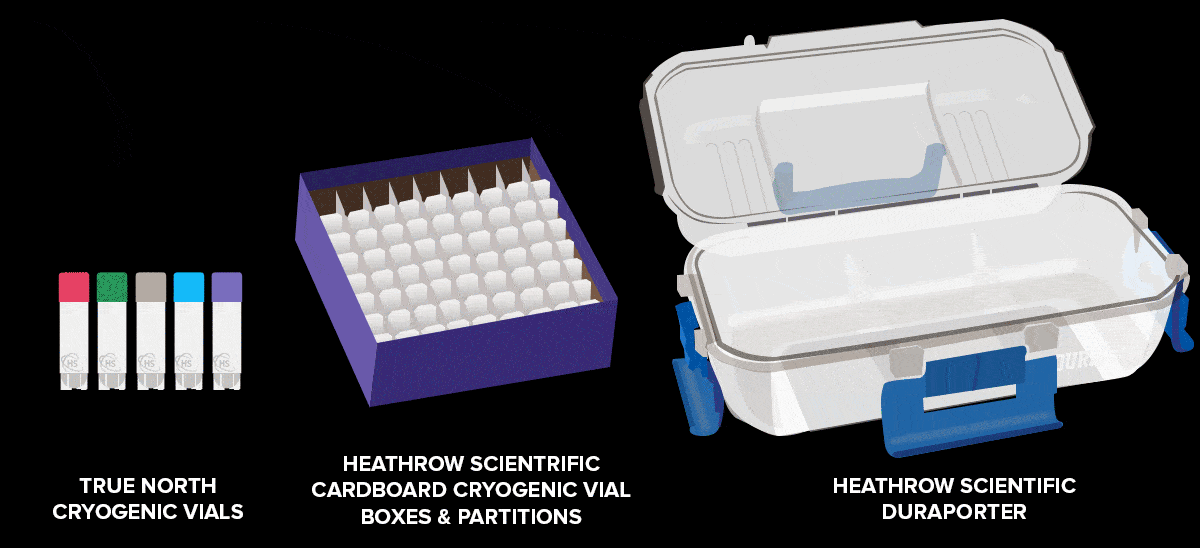 Build your own cryo transportation kits to suit your application using the Duraporter® and:
Make specimen transport foolproof
Move all your samples, tubes, liquids around the lab safely by locking them inside the Duraporter® before moving. It's used by 20,000+ labs across the country for:
Hazardous/sensitive research samples
Clinical and Phlebotomy samples
Blood bags and/or tissue/organ samples
Public Health samples
Laboratory instruments
Biotransport of infectious specimens
Key Features
Polycarbonate construction and available in three colors for user/owner identification
Silicone water-tight seal and three lid clasps provide secure closure
Carry handle folds neatly into body space allowing the units to be stacked
Lid opens a full 180°, allowing total access to contents and making it easier to clean
Will accommodate 13 and 16 mm tubes in a 72-place OneRack™, or similar sized/ brand of rack
Use the separators provided to create your own compartment sizes, or use empty to transport larger products and equipment
Dimensions: L 15 in x W 7.7 in x H 6.3 in (38 cm x 19.6 cm x 16 cm)
Autoclavable



The DuraPorter® is in compliance with U.S. standards, OSHA 29 CFR 1910.1030 and meets UN3373 compliant transport unit requirements.
Item
Dimensions
Color
Unit of Measure
Price
Purchase

HEAHS120078

HS120078

380 x 196 x 160 mm
Yellow with Yellow Handles
Each

$85.47

HEAHS120052

HS120052

380 x 196 x 160 mm
Clear with Blue Handles
Each

$85.47

HEAHS120079

HS120077

380 x 196 x 160 mm
Red with Red Handles
Each

$85.47
---
With Selected Items: