What features make the best ultrasonic cleaner for your tools and labware?

Ultrasonic cleaners quickly clean intricate and fragile labware, mechanical parts and more
What do dentists, lab managers, cycling enthusiasts, brain surgeons, firearm manufacturers, the automotive and aerospace industry, and jewelers all have in common?

They rely on precision instruments and equipment to do their good work.

But regular use and tough jobs take a toll on your valuable equipment.

You need your instruments and tools to be pristine. Without spending hours cleaning and decontaminating them regularly.

Effortlessly clean even the most intricate and fragile equipment with an Elma ultrasonic cleaner.

This ultrasonic cleaning machine has a near magical quality in the way they make your tools, parts and equipment sparkle.
What is an ultrasonic cleaner?
From aerospace to health care, firearms to jewelers, professionals across industries are taking a shine to the ultrasonic cleaning system.
The formula is simple: This device cleans and decontaminates items (like a carburetor, dentures, clocks and more…) by using ultrasound in combination with an appropriate cleaning solvent (or water).
The result? Ultrasonic cleaners offer the complete and rapid removal of germs, dirt and other contaminants from your important items. Effortlessly.
This is the most popular ultrasonic cleaner of 2021
How does an ultrasonic cleaner work? A deep dive.
Ultrasonic cleaners harness the power of cavitation to remove germs, particles, or whatever contaminant you are targeting from any surface that can safely be immersed in biodegradable cleaning solutions.
Ultrasonic cleaners effortlessly clean intricate and fragile instruments (like dental or surgical tools, labware, firearms or even clocks). They can dissolve, disperse and emulsify samples, as well as rapidly degas solvents.
What is cavitation?
Cavitation is the process where static pressure of a liquid is reduced to a point below the liquid's vapor pressure, leading to the formation of small, vapor-filled cavities in the liquid. Ultrasonic cavitation is created in an ultrasonic cleaning tank, by ultrasonic generator-powered ultrasonic transducers attached to the bottom of the tank.
Ultrasonic cleaning relies on a spectrum of sound frequencies (inaudible to the human ear). Ultrasonic frequencies range from almost 20,000 to 100,000 cycles per second. And lower or higher frequencies had different effects (and can be used for special applications).
Here's how they make your items and parts sparkle:
Contaminated items are put into a cleaning tank of solvent (the cleaning fluid)
The ultrasonic machine introduces a sound wave series into the specialized solvent using an immersible ultrasonic transducer, which agitates the solvents with sound waves with a high frequency.
These transducers work to compress and expand the liquid, forming microscopic cavitation bubbles by squeezing tightly and then separating quickly. This process is called cavitation, a busting action that causes a partial vacuum, and provides extremely high exit velocities for each bubble.
All of this action happens incredibly quickly, with surrounding liquid absorbing each bubble's heat almost instantly.
This gives you a precise, easy-to-use system for cleaning any parts or pieces safely, gently, and specifically targeted at the contaminants, germs, oils or other debris your particular industry produces.
As a result of this simple process, ultrasonic cleaning is particularly effective and efficient when cleaning a wide variety of components and goods. And here's the most popular ultrasonic cleaner of 2021.
Elma ultrasonic cleaners are proven technology. With modern upgrades.
Ultrasonic science is nothing new. In fact, we've been applying this technology since World War I. Back then, transducers were weak, so the potential of ultrasonic cleaning wasn't really on anyone's radar.
In the 1960s, that began to change. Technological advances lead to developing better transducers, and ultimately, more efficient and powerful ultrasonic cleaners became available for wider use.
Fast forward to today. Modern technology has led to the invention of more reliable and effective ultrasonic machinery. As a result, the ultrasonic cleaning market has grown exponentially over the past decade, and an ultrasonic cleaning process is now being used across many industries.
How long does ultrasonic cleaning take?
The ultrasonic cleaning process can remove dust, chemicals, dirt, oil, baked on grease, pigmentation, fingerprints, and other lab contaminants. But how quickly they get the job done depends on:
Your equipment
How dirty or contaminated the object you're cleaning is
Some items might be clean within a few seconds! Others might take a bit more time. The average length of time to completely remove contaminants is between 2 to 10 minutes.
Some machines have lower cycle times, and others have longer ones, which work well if you need a machine that requires minimal supervision.
This is the most popular ultrasonic cleaner of 2021
Precision cleaning at an affordable price point: The advantages of using an ultrasonic cleaner over other cleaning methods.
Elma ultrasonic cleaners remove surface particles, germs, debris and other contaminants from a wide range of items more quickly, thoroughly, and efficiently than manual cleaning, using cavitation and specially targeted cleaning detergents.
Regardless of how complex the parts and pieces of your item, ultrasonic tanks can efficiently and rapidly reach all pores, crevices and corners, with little to no need for human interaction.
And Elma builds professional precision tools, with models (like the E-Plus) that come at affordable prices. Making this technology accessible to all users.
Why everyone is taking a shine to Elma ultrasonic cleaners
Elma ultrasonic cleaners remove surface particles, germs, debris and other contaminants better and faster than manual cleaning. They use science over strength!
They're built to save you time and effort, and are indispensable when you work or play with...
Chemicals or pharma products
Automotive and aerospace parts
Jewelry
Precision electronics
Medical devices and lab instruments
Cosmetics
Firearms
Dental tools and surgical tools
...and more.

Clean your most intricate tools and equipment with Elma ultrsonic cleaners.
Find a precision ultrasonic cleaner at an affordable price point
The best ultrasonic cleaners: Why professionals across industries choose the Elma Ultrasonic E-Plus
Not all ultrasonic cleaners are made equal.
And Elma is the preferred brand for most users.
This Germany-based, globally operating, family-owned company has been providing customers with reliable equipment for over 70 years. Elma uses proven technology that's been tailored to address users' needs.
This economical product line is manufactured to the highest quality standards, and backed by a 2 year warranty, plus a replacement guarantee one year from the purchase date.
The Elma Ultrasonic E-Plus model is the perfect precision tool for new users. Available at a more affordable price point, this ultrasonic cleaner is the smallest model Elma offers, and cleans without heating.
Here is the Elma Ultrasonic Cleaner model users love most in 2021
The Elma Ultrasonic E-Plus Cleaner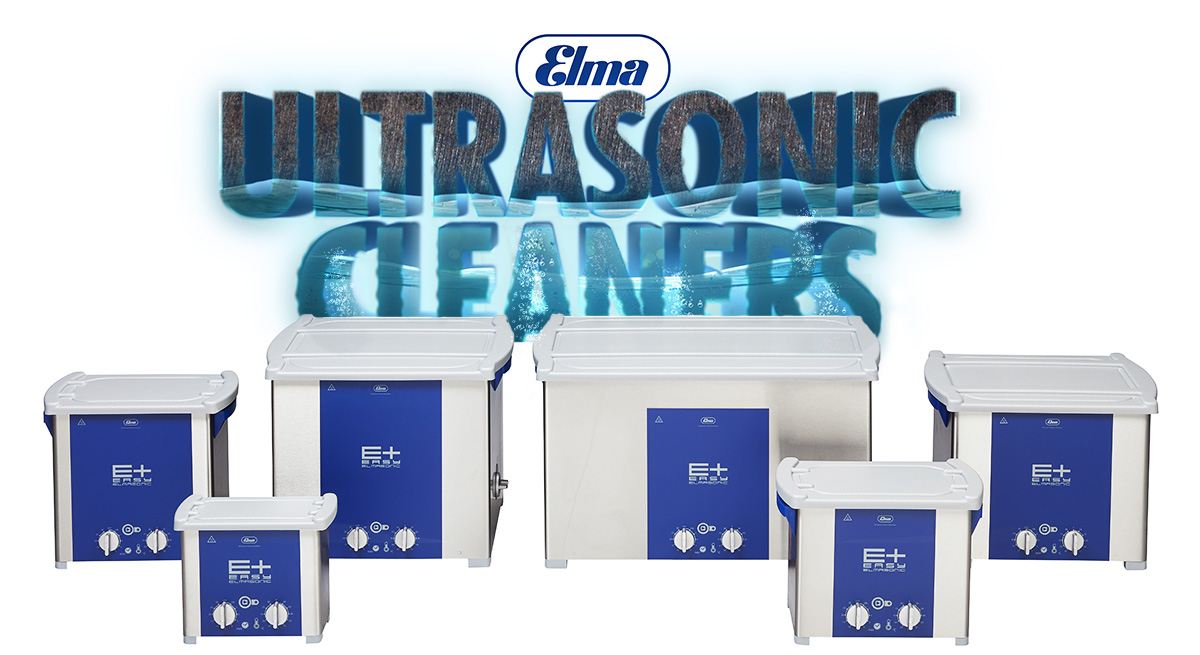 The Elma Ultrasonic E-Plus model is the perfect precision tool for most users. It's the most affordable price. It's compact. It cleans without heating.
Why do other professionals love the Elma Ultrasonic E-Plus Cleaner?
Because it's…
Easy to use: With just a few controls, they're great for new users
Fast & thorough: They save you time and effort, providing rapid and thorough cleaning for a wide range of parts and instruments.
Affordable: Elma's E-Plus model is a pro-quality instrument, available at a price point that's accessible for everyone.
Built to last: And backed by a 2-year warranty.
Show me this ultrasonic cleaner
Finding the right ultrasonic cleaning solution
The right ultrasonic model is just part of the equation. Cleaning performance also depends on the right solvent in your ultrasonic tank.
The right detergent depends on your use. And Elma has developed ready-to-use cleaning solutions for a variety of applications:
If you're cleaning parts that do NOT involve human fluids...

Alconox Powder Detergents are the right fit for you.

Alconox Powder Detergents are colorless, odorless, mild laboratory detergents used to achieve the highest standards of critical cleaning. These detergents effectively clean labware until they sparkle. There is no corrosive action on most metals, so it's the right cleaner to use in ultrasonic cleaners for carburetors and fabricated metal parts.

This detergent is your best bet because it's:

Effective in hot or cold water
Effective in hard or soft water
Colorless and odorless

Show me more

If you're a doctor, dentist, healthcare professional or work with human fluids and dangerous microorganisms…

The UltraDose Germicidal Hospital Grade Ultrasonic Cleaner Concentrate is a unique blend of an ultrasonic cleaning solution and an EPA-registered hospital grade disinfectant. Safely clean and disinfect your instruments in one easy step with this detergent that eliminates dangerous microorganisms like COVID-19, HIV-1, Pseudomonas Acrusinosa, Salmonella, Staphylococcus and more.

This detergent is your best bet because it's:

Concentrated, so one ounce makes one gallon
Non-irritating and fragrance-free
A disinfectant, deodorant, germicidal, fungicidal, virucidal and tuberculocidal all-in-one.

Show me more
Learn more about these world class ultrasonic cleaning solutions here.
Elma gets the job done
For the most versatile precision cleaner, at a price point that's accessible to everyone, there's no better option than the Elma E-Plus ultrasonic cleaner.
With a proven track record across a wide range of industry applications, and results that outperform conventional cleaning methods, the E-Plus ultrasonic cleaner uniquely combines speed, safety, reliability and precise cleaning, even for challenging jobs.
Still have questions about your ultrasonic cleaner? Give our team a shout. We'll be happy to talk Elma ultrasonic cleaners and help you find the best option for your application.
Contact us today and tell us what you need