Additional Resources:
Download MagFuge High Speed Centrifuge Brochure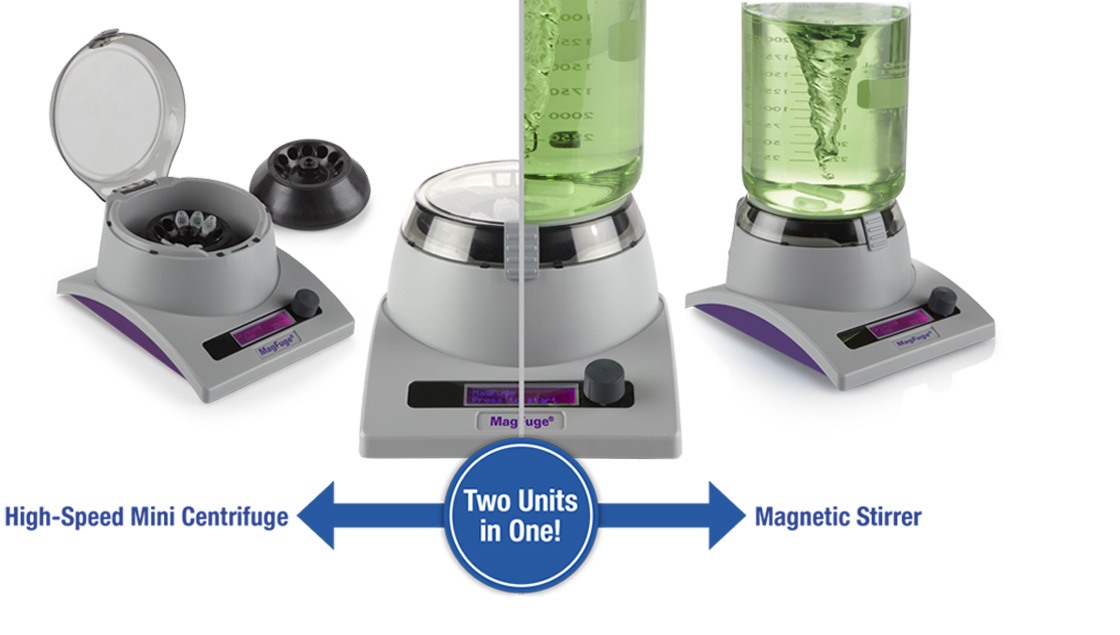 Watch it work:
MagFuge® High Speed Centrifuge & 3L Stirrer
CUSTOMIZE YOUR HIGH-SPEED CENTRIFUGE ON THE FLY AND MAKE YOUR JOB EASIER
The Multi-Function High-Speed Centrifuge bundle - MagFuge® MFC - helps everyone in your workplace adapt to the daily challenges that impact productivity and job satisfaction in the lab.
Spin down samples from 0.2 ml to 5ml anywhere in the lab with multiple rotors and tube adapters included in the bundle.
The perfect mix of speed (12,500 rpm) and size (down to 0.2 ml) for PCR, microfilter cell separation, and HPLC protocols (alternative instruments are more than double the price).
Switch rotors without tools so operators work more efficiently.
Since the price is so good, work around instrument-related bottlenecks by providing multiple high-speed centrifuges on site that easily adapt to operator priorities - everybody can quickly configure them when needed.
Learn a single interface for multiple applications and make operators happier as they get more proficient in their jobs.
Help operators work at their own pace, so they aren't worried about other users watching the clock behind them.
Avoid the hazards of moving precious samples around the lab and bring your centrifuge to them instead. It has a smaller footprint and slimmer profile than competing high-speed centrifuges.
Have backup equipment ready if primary equipment breaks down. The MagFuge MFC bundle also includes a high performance magnetic stirrer adapter to stir samples of 3L or greater - and likely does it better than your dedicated stirrers.
You know the volumes you work with. You know the RPMs or RCF. And you know how long.Why waste time pouring over (and paying for) bells and whistles you don't need. Your MagFuge MFC does it.




---
EVERYTHING IS ALREADY BUNDLED TOGETHER FOR YOU

The Multi-Function high-speed Centrifuge bundle includes:
The MagFuge unit
Three rotors:

5 mL tube rotor
1.5/2.0 mL tube rotor
Magnetic stirrer rotor

12 tube adapters for 0.2 mL tubes
12 tube adapters for 0.5 mL tubes
2 silicone mats for the stirrer adapter
2 rare-earth PTFE coated stir bars
1 low voltage, double insulated power adapter with 4 cord sets
---
HELP COLLEAGUES AND HELP YOURSELF
One of your colleagues already has samples spinning in the large centrifuge. Grab your Multi-Function high-speed Centrifuge, lock in the rotor and tube adapters you need, and keep your day moving forward.
The stir bar on the magnetic stirrer your colleague needs is suddenly sitting lifelessly at the bottom of the flask. Pull out the MagFuge MFC high performance magnetic stirrer adapter and stir bars and let them continue their work(maybe even make their day more productive, since the adapter produces fewer spin-outs than most other single-purpose magnetic stirrers).
The Multi-Function high-speed Centrifuge bundle makes your lab more adaptable and resilient, and makes everybody's jobs easier.
---
END BOTTLENECKS AROUND OTHER HIGH-SPEED CENTRIFUGES
Where are the bottlenecks in your lab?
Most revolve around instruments in high demand. Place MagFuge high-speed centrifuge bundles in your storage room or in drawers around the lab so operators can quickly grab and configure them when other high-speed centrifuges or high performance magnetic stirrers are already in use.
---
REDUCE SAMPLE SPILLS
Carrying samples around the lab in glassware isn't exactly dangerous work. But why not err on the side of safety?
Bring your high-speed centrifuge closer to your samples so you don't risk the off chance of slipping on a wet floor, long shoelace, errant banana peel, or bumping into a distracted coworker.
---
USE YOUR BUDGET BETTER IN HIGH SCHOOL AND UNIVERSITY LABS
Centrifuges and magnetic stirrers take up space. And they can consume your departmental budget quickly when you have to replace so many instruments at once.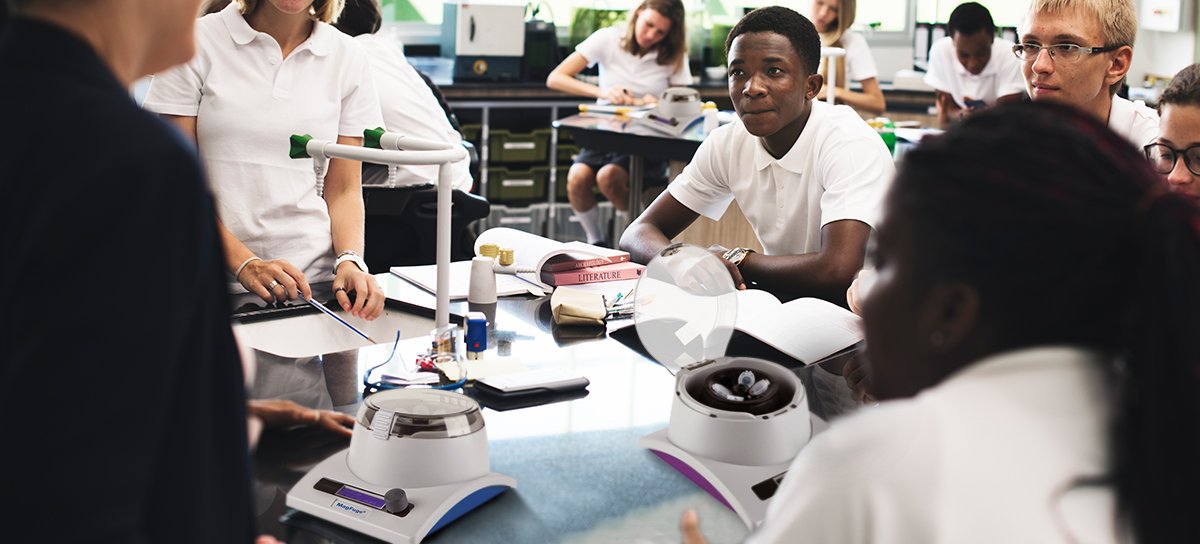 The MagFuge Multi-Function high-speed Centrifuge bundle lets you:
Consolidate your department's expenses.
Limit long-term instrument expenses.
Offer more learning experiences to students.
Use valuable storage space more efficiently.
Set up and disassemble labs quickly.
Spend less time maintaining and repairing centrifuges and magnetic stirrers.
It's the preferred tool for teachers and professors in science labs across the US.



---
MAKE YOUR LAB AND OPERATORS MORE ADAPTABLE
In the next decade, multi-function equipment will replace single-purpose instruments throughout the lab.
Where there is cross-functionality and similar technical anatomy, instruments will amalgamate.
The glassware washer/dryer in your lab used to be two instruments.The high-speed centrifuges and magnetic stirrers in your lab used to be two instruments.There was a time when you or your older colleagues carried an iPod and flip phone (and occasionally a camera or electronic organizer) until they were combined into a single device that's more indispensable to your daily life than anything before.
Get your operators used to multi-function equipment and build standard operating procedures early so your lab can smoothly transition to a more adaptable, resilient, agile workflow and thrive over the next decade and more.
---
BE PREPARED FOR EVERYTHING
There are bottlenecks. Breakdowns. Accidents. Equip your lab to succeed in unexpected conditions.
Place a test order with 2 bundles below and see how they impact daily operations. Then order more.
Specifications of Heathrow Scientific MagFuge
MagFuge Centrifuge
Speed Range
500 - 12,500 RPM
RCF
15-9,800 x g
Capacity
12 Place 1.5/2.0 mL tube rotor: 24 mL maximum liquid volume
6 place 5 mL tube rotor: 30 mL total maximum liquid volume
Run Time Ranges
0:30" - 60':00" minutes (0':05" increments)
MagFuge Magnetic Stirrer
Speed Range
50-2500 RPM
Capacity
3L total maximum vessel liquid volume;
diameter not to exceed 130 mm
Time Run Range
Stirrer Mode: 0:30" to 60':00" or continuous (0':05" increments)
Oscillating Mode: 1':00" - 60':00" or continuous
Oscillating Period
0:30" - 15':00" (0:15" increments)
Stir Bar Dimensions
40 x 12 mm cylindrical shape
Plate Dimensions
130 mm diameter
General Specifications
Power
Low Voltage, Double Insulated Power Adapter
(100-240 VAC, 50/60 Hz) with 4 Interchangeable Plugs
Weight
1.85 kg (4.08 lb)
Certifications
CE, SGS, RoHS3, WEEE
Operating Temp
Range 2°C to 40°C
Warranty
Five Years
Item
Product Description
Unit of Measure
Price
Purchase

HEA120582

120582

MagFuge® High-Speed Centrifuge and a Magnetic Stirrer In-One Unit, Grey/Blue
Each

$1,211.95

1119581

120581

MagFuge® High-Speed Centrifuge and a Magnetic Stirrer In-One Unit, Grey/Purple
Each

$1,211.95

HEA120622

120622

High Speed Centrifuge Rotor 12 x 1.5/2mL Tube
Each

$81.95

HEA120623

120623

High-Seed Centrifuge Rotor 6 x 5 mL Tubes
Each

$81.95

HEA120624

120624

Stirrer Rotor
Each

$83.95

HEA120682

120682

Silicone Lid Mat for Stirrer
Each

$26.95

HEA120527

120527

MagFuge® Replacement Power Adapter
Each

$107.95
---
With Selected Items: